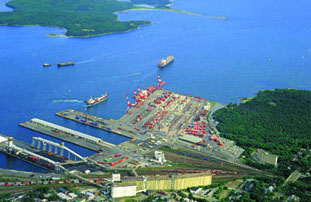 Established in 1969, Halterm Container Terminal Limited has made a name for itself offering fast and supremely flexible service to global shipping line customers, the masters of the largest containerships in the world. Halterm Limited is located in Halifax, Canada, a harbour with natural deep
water and a perfect location to handle ultra large container ships with a terminal capability as yet unmatched by other east coast ports.
The Tatamagouche Road Train Society's new community train was brought to Canada aboard the 'CSCL Oceania'. This vessel is one of the largest container vessels ever to call Halifax, with a length of 334m and is capable of carrying more than 8000 twenty-foot shipping containers. Upon hearing the story of the arrival of the road train, Halterm Container Terminal Limited staff and members of the International Longshoreman's Association, were keen to speed the little train on its journey to Tatamagouche and so, using the largest ship-to-shore cranes on Canada's east coast, with a height of over 76 metres, the new road train was brought ashore in Halifax.
Happy travels for the town of Tatamagouche.